The bikes keep rolling in, but the volunteers are doing great work in getting ahead of the wave. We currently have 625 bikes in the house, up 39 from last week. This is well above last year's total for the entire campaign, but as you know, the need this year is much larger as well. We'd love to get to 750 bikes, or even more, so if you have a disused child's bicycle in your garage, shed, or basement, consider donating it to us. We promise we'll do our best to make it a shiny favorite possession of a child in need this December.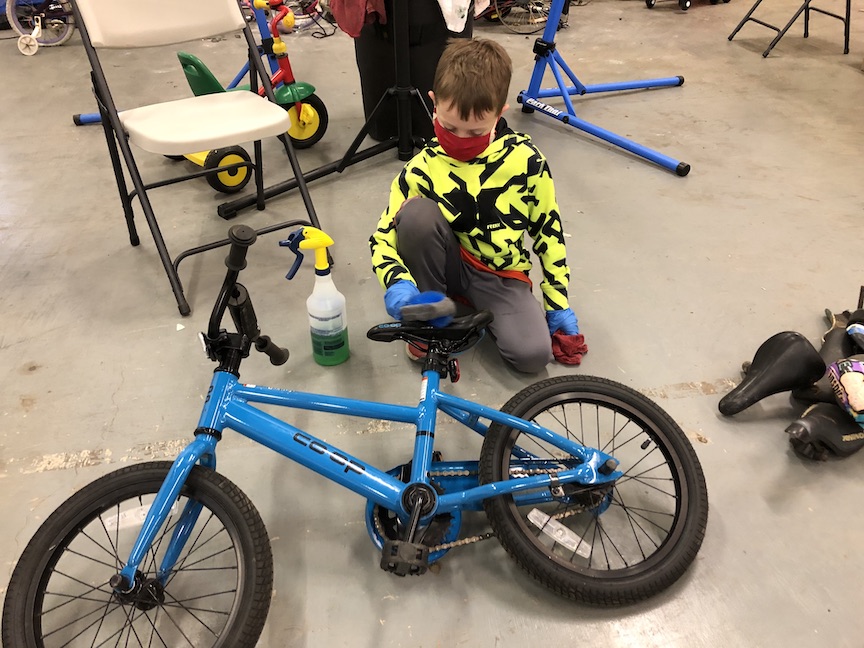 Meanwhile, ably assisted by the lad above and more than two dozen other volunteers of all skill levels, we refurbished 159 12-, 14-, and 16-inch bicycles last week. We're working on the 18-inch bikes now, and will soon move to 20-inch bikes, including BMX and multi-speed bikes with derailleurs.
If you want to help, we have roles for people at all skill levels–in fact, right now our biggest need is for folks who can clean bicycles as the first step in the refurbishment process. We offer a very airy space with lots of fans, hand sanitizer, disinfectant, individual tools and supplies for everyone, and if you wish we'll set up a canopy so you can work outside. You do need to reserve a slot ahead of time, and we are limiting the number of people in the warehouse at one time to 12. Go here for more information and to sign up!