This week we passed several milestones: We received our 500th bicycle donation; our volunteer hours donated passed the 1000 hour mark, and we refurbished our 460th bike. Great timing, since Giveaway Day is December 14, only two weeks away! And WBAL Radio did a story on us; check it out here.
During week 8, More than thirty volunteers contributed nearly 150 hours of labor cleaning and refurbishing bikes. Mechanics from Race Pace Bicycles safety checked over 100 bicycles, bringing the total of bikes ready for Giveaway Day to 447. And 17 more bikes were donated, bringing the total for our first year to a nice, round, 500.
Saturday's seven donated bikes are all that are left to clean. Cleaners signing up from now on will be helping us with other tasks as we wind down refurbishing and begin to set up for Giveaway Day.
We received our order of over 450 helmets, and they have been unpacked and stacked, waiting for smiling faces to fill them.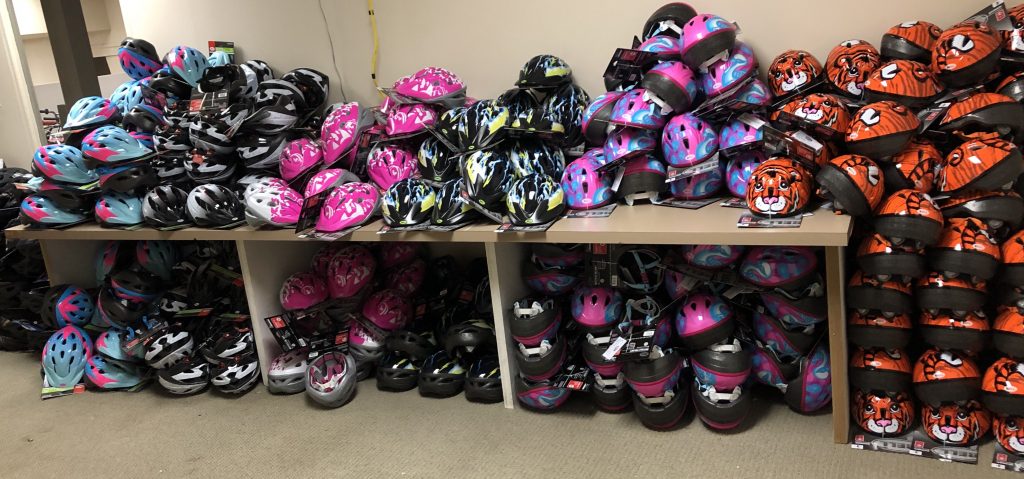 We'd still love to have you volunteer, particularly on Giveaway Day, December 14. We need folks to check families in, measure heights, size helmets, adjust seats and handlebars, move bikes, and load bicycles into vehicles, among other tasks. Shifts are available starting at 8:30 AM, 11:30 AM, and 2:30 PM on December 14, and Monday through Friday at 3:00 PM and Saturday at 12 Noon and 3 PM in the two weeks before that. We're at 10750 Little Patuxent Parkway. You can  sign up here. Any level of experience with bikes is welcome!