484 bikes to fix up, and we've done 85. Only 500 to go!?
Last Saturday, we collected 484 bicycles with the help of dozens of volunteers. We spent the early part of this week organizing our refurbishing center, and then got busy cleaning, adjusting, and repairing bikes, starting with the littlest ones.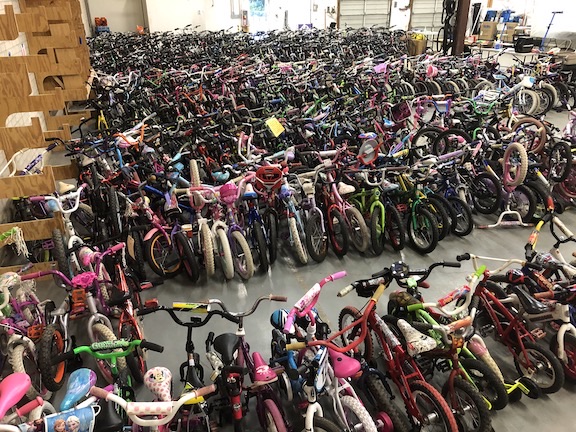 We've finished going through all of the tricycles, strider, scooters and big wheels, and a score of 12″ and 14″ bikes for the littlest of children in need. That was good progress, but, oh happy days, the bikes continue to be donated by very generous people! Since Saturday we've received another 101 bikes, bringing our total to 585–so at the end of the first week we still have 500 bikes to go through! It's a great challenge for us to have, because we know the need is there.
If you want to help, we have roles for people at all skill levels–in fact, right now our biggest need is for folks who can clean bicycles as the first step in the refurbishment process. We offer a very airy space with lots of fans, hand sanitizer, disinfectant, individual tools and supplies for everyone, and if you wish we'll set up a canopy so you can work outside. You do need to reserve a slot ahead of time, and we are limiting the number of people in the warehouse at one time to 12. Go here for more information and to sign up!